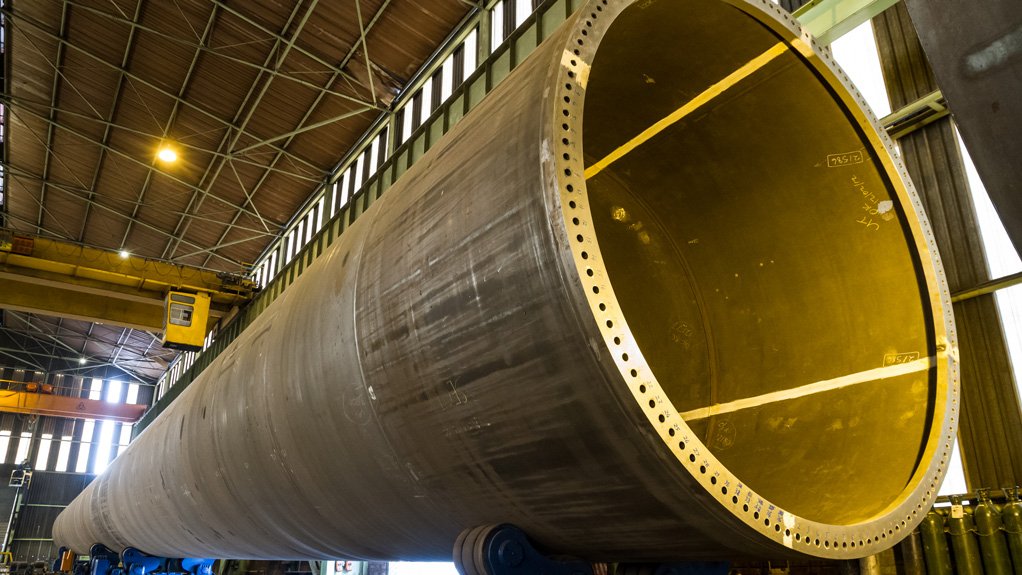 Department of Mineral Resources and Energy (DMRE) director-general Advocate Thabo Mokoena reports that government intends using the South African Renewable Energy Masterplan (SAREM), which is currently being drafted, to position the country as a "globally significant" producer of inputs used in renewable-energy plants.
In a keynote address to the virtual Enlit Africa conference on Tuesday, Mokoena said the SAREM would help "coordinate the renewable-energy requirements" to support such an industrialisation drive and to boost manufacturing employment.
The DMRE, together with the Department of Trade, Industry and Competition, was currently prioritising the establishment of a multistakeholder SAREM executive oversight committee, which would guide and champion industrialisation across renewables value chains.
Speaking during a recent webinar hosted to coincide with the six-month countdown to the upcoming COP26 climate talks, to be held in Scotland in November, Green Cape's Francis Jackson said that, once convened, the committee would be able to confirm the target timeline for finalising of the plan and its adoption.
He indicated that, historically, the yearly South Africa Investment Conference had been an opportunity for masterplans to be announced, but stressed that this did not preclude prior adoption should the plan be endorsed ahead of the conference, scheduled for early November.
"The present focus is the establishment of the executive oversight committee as well as the research and consultation phase.
"Inputs from the research and consultations are contributing to an emerging set of opportunities, barriers and bottlenecks and trade-offs.
"These require the executive oversight committee's engagement to take to the next level of prioritising levers to unlock them," Jackson told Engineering News separately.
A matrix of value-chain elements was being considered, with priority being given to those primary materials, components and subcomponents used in the manufacture and assembly of the renewables technologies outlined in the Integrated Resource Plan of 2019 (IRP2019), including solar photovoltaic (PV), wind and battery storage.
"Care is being taken to ensure that the perspectives of global value-chain players eyeing the market for investment in local production capacity, as well as incumbent local manufacturers' perspectives, are represented in the problem-solving."
MANUFACTURING OPPORTUNITY
Value-chain elements have not yet been "strategically prioritised", but the objective is to outline a rational sequencing of support that harnesses "the low-hanging fruit that catalyse related value-chain elements".
"For example, wind turbine towers and blades are obvious primary component opportunities, should procurement and project pipeline certainty be clear," Jackson outlines, adding that the integration of local components in nacelle assembly could grow over time.
Likewise, solar PV module assembly is viewed as a first step toward vertical integration that may ultimately crowd-in other components, such as glass manufacture.
"Opportunities in major metal components, support structures and frames, inverter and transformer casings and so on, rely on growth of the reliability, cost competitiveness and quality of input metals available in the market," Jackson adds.
As with all the other masterplans developed to date, the executive oversight committee will be responsible for steering the plan through to adoption by stakeholders and championing its implementation.
Typically, these committees comprise a small group of leaders from industry, labour and government, which, in this instance, will be chaired by Mineral Resources and Energy Minister Gwede Mantashe.
In his recent Budget Vote, Trade, Industry and Competition Minister Ebrahim Patel said three masterplans, covering the automotive, clothing and poultry sectors, were already in place during 2020 and that three more, covering sugar, steel and furniture, had been finalised – the steel masterplan will be officially signed by stakeholders on June 11.
Patel also reiterated that further masterplans were envisaged to support growth in new economic sectors, such as renewable energy, adding that "the 21st century may be known as a century of renewable energy and green hydrogen".
GREEN HYDROGEN LINK?
In his address, Mokoena underlined this point saying that South Africa needed to "positively exploit" its competitive advantages of world-class wind and solar and critical-mineral resources, an abundance of land, an established grid network and the industrial-scale production of synthetic fuels and chemicals.
"We are making steady progress on our Hydrogen Society Roadmap – the roadmap is meant to set out a vision for an inclusive hydrogen society so that an enabling compact between industry, labour, communities and government can be developed," he reported.
On whether the renewables demand arising for the development of a green-hydrogen industry was being factored into the SAREM, Jackson indicated that, because the SAREM's focus is on the industrialisation of the renewables value chain, the size of the market will be influenced not only by the IRP2019, but also private investment in renewables and hydrogen-linked demand.
Green hydrogen production, together with opportunities for sector coupling, present an opportunity for "significant growth in demand for renewable electricity generation – especially in the case of green hydrogen for export which would explicitly require low-carbon electricity to meet foreign demand".
Green hydrogen is produced by using renewable electricity to split water into hydrogen and oxygen using an electrolyser.
"As such, the resultant growth in renewable-energy megawatts would be a third scenario of demand for industrialisation."
For the immediate future, however, IRP2019 and distributed-generation projects would be key to catalysing a local manufacturing market, as it represented a "peg in the ground" for renewables playing a far larger role in South Africa's electricity mix.
The SAREM is also being aligned to South Africa's policy stipulation that the country's transition from coal to renewables be a "just transition".
"In order to do so, a focus area, or potential pillar of the plan, explores how to co-locate investment in industry in the economies of transition hotspots, such as Mpumalanga," Jackson explained, referring to the province where most of South Africa's coal mining and coal-fired electricity generation takes place.
"To try to respond to how to earmark industrialisation projects in this spatial dimension, this focus area has seen inputs from labour unions, academic experts, civil society, industry players and government departments, gathered in collaboration with Trade & Industrial Policy Strategies and complemented by a review of comparator economies in the research.
"At this phase of the plan formulation we now need to collate and test the emerging ideas before they become implementable workstreams – that is the phase the work is at presently," Jackson concludes.