With the first-ever US climate bill approaching passage in Congress, it's time to reconsider the calculus for when American households think about going solar. If the bill is passed into law, that transition will instantly become more affordable, as will other clean-energy upgrades likely to spur household electricity demand. There are so many incentives to install solar that the Inflation Reduction Act of 2022 might be more aptly titled the Electrify Your Life Act.
The bill would restore a 30% tax credit for residential solar systems — making it applicable to panels installed this year – and extend the program to Jan. 1, 2034. Leased or purchased battery storage systems would likewise qualify for a 30% credit. Add to that rebates for heat pumps (up to $8,000), heat pump water heaters ($1,750), induction stoves ($840) and upgrades to one's home electrical system ($4,000). Households earning up to 150% of the median income in their area can claim a maximum of $14,000 in total rebates through Sept. 30, 2031. 
Considered altogether, the bill's incentives are mutually reinforcing. Electrifying a home with solar energy that's used to charge an EV cuts fossil fuel costs and greenhouse gas emissions. Battery systems let homeowners store excess solar energy generated during the day and tap it at night to avoid high utility electricity rates. Batteries also help keep the lights and internet on during increasing climate-driven blackouts.
"There's no question in my mind that all these incentives will make the difference for consumers on the fence about solar, accelerating access to the technology for Americans across the country," says Suzanne Leta, senior director and head of policy and strategy at residential solar company SunPower Corp. "Especially those that are low to moderate income." 
Experts say the inclusion of electric cars and home electrification could also significantly reduce the payback period for solar panels, thanks to savings on energy costs. That calculus can be tricky to suss out — payback time is impacted by local utility rates, surcharges, inflation, tariffs, supply chain snarls and labor costs, among other factors — but solar return-on-investment calculators are here to help. 
Once homeowners do recoup their investment in a solar system, the electricity it generates would essentially be free outside of maintenance and service fees charged by a utility to connect to the grid.
"What's driving consumers right now is power prices doubling and tripling and gasoline doing the same thing," says John Berger, chief executive officer of residential solar company Sunnova Energy International Inc. Berger believes the tax-credit extension would give companies the certainty they need to make bigger investments to lower solar energy costs.
The extension would also forestall a mad dash by Americans to switch to solar before existing tax credits expire in 2024, a spike in demand that could further exacerbate supply chain and labor constraints. 
"This bill is a comprehensive, long-term attempt to help families and communities make the decision to go solar," says Sachu Constantine, executive director of Vote Solar, a California-based nonprofit that advocates for state clean energy policies. "People's decision to go solar affects other people's decision to go solar; we see it as a kind of viral activity."
Read more about how the US climate bill will help solar pay for itself. 
Like getting the Green Daily? Subscribe to Bloomberg.com for unlimited access to breaking news on climate and energy, data-driven reporting and graphics and Bloomberg Green magazine.
Calling all filmmakers. Bloomberg Green Docs is accepting submissions. We want to see your short documentaries on climate change. Submit your film by September 16 and compete to win a $25,000 grand prize, plus the opportunity to showcase your work at a special screening in Los Angeles on October 26.
The Inflation Reduction Act would also…
Nearly one in five dishwashers in the US sit idle — largely because people think they're ineffective and wasteful. Both assumptions, it turns out, are wrong. Modern models only use about 10% of the water that cleaning dishes by hand does, according to the Environmental Protection Agency. As part of a decade-long quest to reinvent itself, Procter & Gamble Co. is hoping to take advantage of this dishwasher fun fact by pumping out ads that point to it. (After all, P&G makes Cascade dishwasher detergent.) But changing behavior is a monumental endeavor, particularly around a task as habit-driven as dishwashing.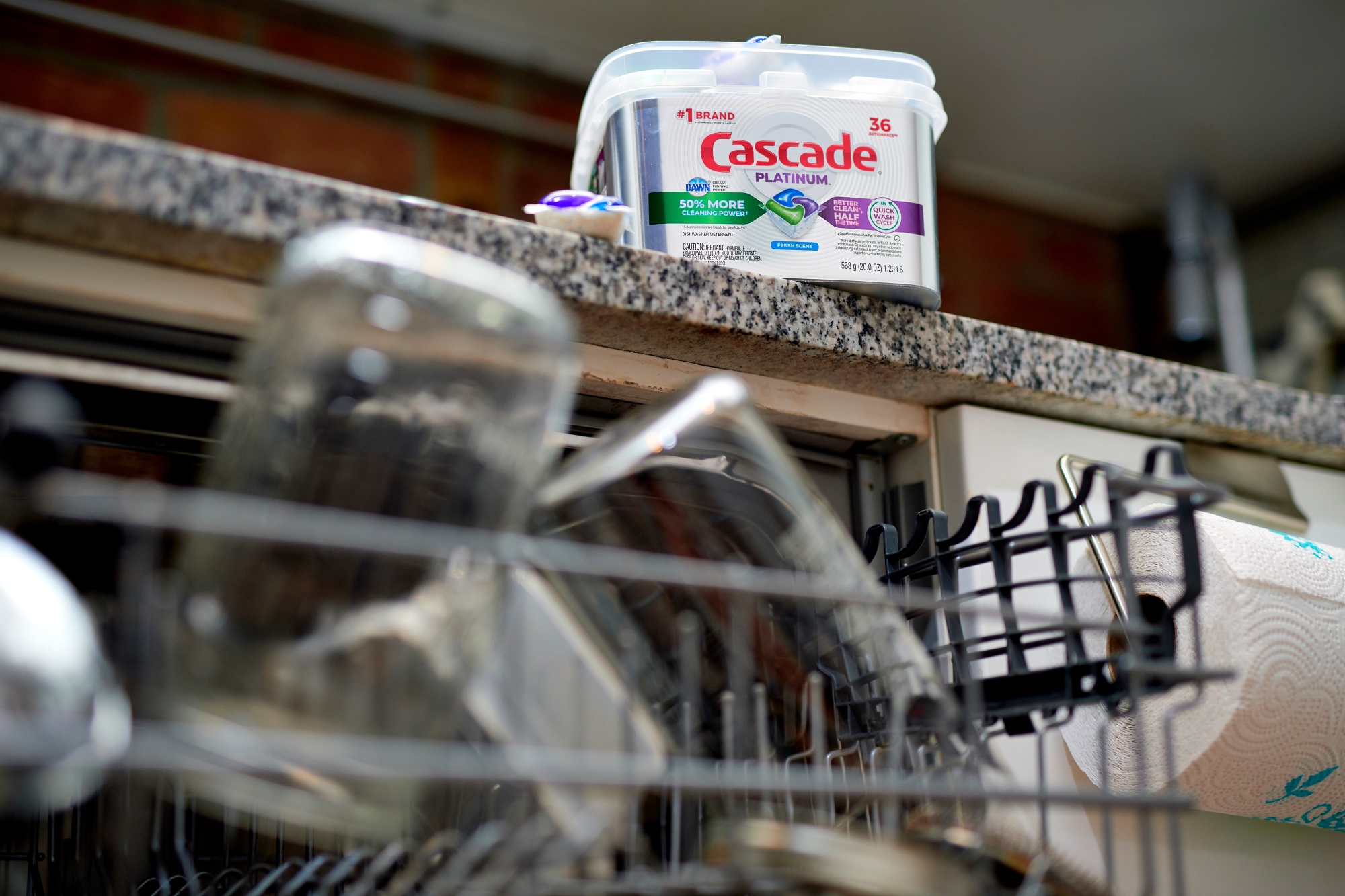 P&G is on a myth-busting mission to save Americans water (and get them buying more Cascade). Photographer: Gabby Jones/Bloomberg
You received this message because you are subscribed to Bloomberg's Green Daily newsletter. If a friend forwarded you this message, sign up here to get it in your inbox.