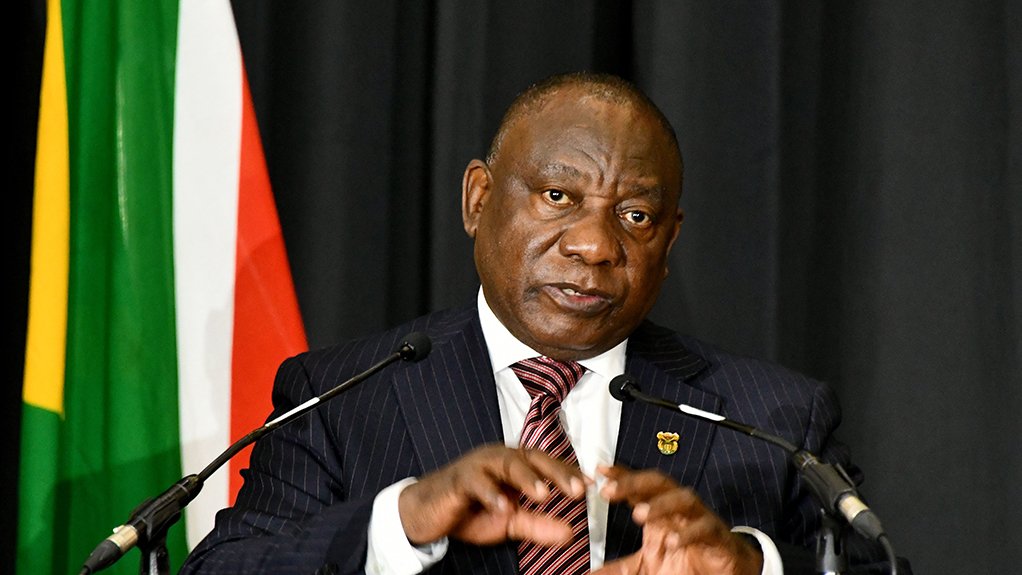 President Cyril Ramaphosa
President Cyril Ramaphosa has doubled down on his argument that South Africa needs to act with "urgency and ambition" in transitioning to a low-carbon economy, but stressed that such increased ambition could not be achieved without financial support from developed economies.
In his latest weekly newsletter, the President backs moves to raise grants and loans, at concessional rates, from the international community to support the country's and Eskom's just transition.
This, again, places him at odds with Mineral Resources and Energy Minister Gwede Mantashe, who has questioned plans to raise concessional finance, warning that it could be a "dangerous step".
However, the newsletter also places some pressure on Finance Minister Enoch Godongwana, given the National Treasury's seeming hesitancy to embrace such plans, owing to the possible debt implications.
"This is not about charity.
"It is about fairness and mutual benefit," Ramaphosa writes.
"Countries with developed economies carry the greatest responsibility for climate change as they have historically been the biggest polluters, while developing economies are the worst affected.
"That is why wealthier countries have an obligation to provide significant financial support for developing economies to adapt to climate change and reduce emissions."
Ramaphosa adds that the energy transition at Eskom, as well as the development of green industries such as electric vehicles and green hydrogen, will need to be underpinned by these forms of financial support.
The President's message follows a recent visit to South Africa of climate envoys from France, Germany, the UK, the US and the European Union in the run up to the COP26 climate talks scheduled for Glasgow, Scotland, in November.
During meetings with the envoys, a just transition financing facility, supported by concessional finance, was proposed to enable South Africa to implement the ambitious climate action outlined in its updated National Determined Contribution (NDC), while also addressing the social impacts of the transition.
South Africa has deposited an updated NDC range of 420- to 350-million tons of carbon dioxide equivalent (Mt CO2-eq) for 2030 with the United Nations Framework Convention on Climate Change, which represents a marked improvement on its 2015 pledge of 614 Mt CO2-eq to 398 Mt CO2-eq.
"Where we get to in this range depends on the support we get for our transition.
"Increased ambition cannot be achieved without the support from the more developed economies living up to the promises they have made in the past to provide financial support to developing economies.
"This needs to be in the form of grants, loans at concessional rates and private investment," the President writes.
During a July Climate Ministerial meeting, hosted in London, Forestry, Fisheries and the Environment Minister Barbara Creecy called on developed countries to ensure access to long-term, predictable and affordable climate finance for developing countries.
While bemoaning the fact that rich countries were still failing to honour their $100-billion-a-year pledge made in 2015, Creecy argued that the figure should be increase to $750-billion a year by 2030, in light of the scale of the adaptation and mitigation challenges being faced by developing countries.
Ramaphosa also used his newsletter to highlight both the risks of the transition and to stress that "there are huge economic opportunities that we must seize".
Besides the health and environmental risks, the President underlined both the direct economic risks, such as the increased threat of drought, and the broader economic risk posed by the imposition of trade barriers on carbon-heavy goods.
"As our trading partners pursue the goal of net-zero carbon emissions, they are likely to increase restrictions on the import of goods produced using carbon-intensive energy."
However, South Africa was also "endowed with abundant resources that can be harnessed to open up new frontiers of investment and growth and build a new economy in areas like green hydrogen".
"By pursuing these opportunities, we can ensure that our just transition yields new innovative opportunities that will create new jobs.
"We are working together with different partners across society in mining towns in Mpumalanga to assess the potential impact of a move away from coal, and ways to ensure that communities are protected against the risks and benefit from the opportunities presented by this transition," Ramaphosa writes.