original article
here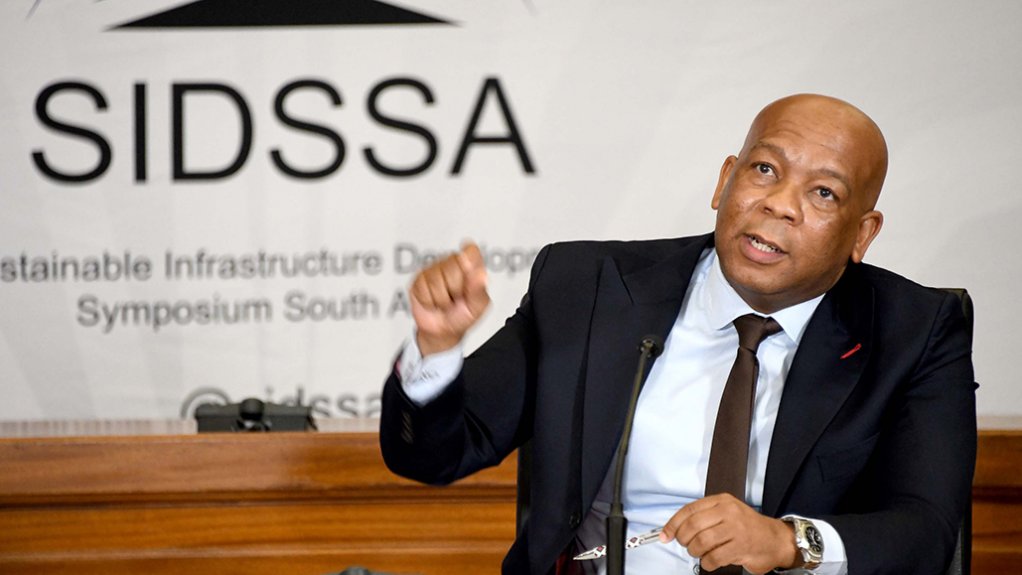 Green hydrogen has been identified by The Presidency as the first of five 'Big Frontier' strategic investment opportunities and will be directly involved in the finalisation of a much-anticipated 'Hydrogen Strategy and Investor Roadmap'.
Infrastructure & Investment Office head Dr Kgosientso Ramokgopa, reported during a webinar on Tuesday that attracting investment to support the development of a green-hydrogen industry was viewed as increasingly important by The Presidency to raising fixed investment to 30% of gross domestic product in line with the National Development Plan's target – the figure currently about 17%.
The other four 'big frontier' opportunities have been identified as next generation digital industries and infrastructure, advance manufacturing and logistics anchored in special economic zones, industrial cannabis and advanced agroprocessing and 'hyperscaling' of environmental, social and governance investments to support social- and green-economy objectives.
Ramokgopa indicated that The Presidency aimed to use its convening power, in partnership with others, to drive the hydrogen strategy, as well as to facilitate regular roundtables with hydrogen investors.
Government was already considering a co-investment option at the proposed greenfield Boegoebaai port, in the Northern Cape, that could be integrated with facilities producing green hydrogen and green ammonia for export.
Ramakgopa's confirmation of The Presidency's support for the development of a large-scale green hydrogen industry in South Africa came as a new study showed that South Africa's yearly production of green hydrogen could be more than 3.8-million tonnes by 2050 and support the creation of some 370 000 additional direct and indirect jobs.
Compiled by IHS Markit, with funding from Agora Energiewende, the study states that two-million tons of this green hydrogen could be consumed domestically to produce synthetic fuels, green steel and chemicals, as well as to fuel remote and heavy-duty fuel-cell vehicles and industrial processes where electrification cannot meet the specific process needs.
Green hydrogen is produced by using renewable electricity to split water into hydrogen and oxygen using an electrolyser.
South Africa, the study adds, could also compete to supply the envisaged import needs of hydrogen and hydrogen-products from developed countries, especially Europe where yearly imports of 20- to-30-million tonnes of hydrogen-equivalent are anticipated by 2050.
It states that green ammonia and green steel exports, supported by the expected European Union Carbon Border Adjustment Mechanism, appear to be attractive early-stage projects.
Releasing the results of the study during a webinar on Tuesday, IHS Markit senior adviser: global energy Dr Andy Barrett stressed the importance of a supportive policy and regulatory framework to stimulate the $106-billion in incremental investment required to help realise South Africa's green hydrogen potential.
"A national hydrogen strategy in line with this ambition will bring planning for hydrogen up to speed with, and comparable to, the way that some 20 countries around the world have already approached this new and exciting industrial opportunity," Barrett said during the webinar, co-hosted by EE Business Intelligence and the German Missions to South Africa, Lesotho and Eswatini.
'H2IGH ROAD'
Titled the 'Super H2igh Road Scenario for South Africa', the study notes that renewables penetration into the country's power sector, together with progressive coal retirements, can directly eliminate only 40% to 45% of total carbon dioxide (CO2) emissions.
To reduce the risk of South Africa's traditional industries being left behind, or even locked out from certain markets in a context of rapid green-economy transitions by developed countries, further proactive decarbonisation of primary industry and transport will be required.
The study concludes that clean hydrogen production can support greater domestic decarbonisation by:
upgrading CO2 emissions in coal- and gas-to-liquids synthetic fuels refineries in Secunda and Mossel Bay and potentially supporting the use of biogenic, non-fossil or direct-air-capture sources of CO2 to be used to source sustainable synthetic fuels;
displacing coking and other coal use in steel production;
replacing existing unabated gas use for chemicals and refinery hydrogen;
supporting the roll-out of fuel cells for remote and heavy-duty vehicles where battery solutions are not viable; and
fuelling industrial processes where electrification cannot meet the specific combustion or heat needs.
South Africa, the study also notes, has limited opportunities to use hydrogen to substitute natural gas in industrial or domestic heating use or in power generation, while the lack of cheap storage capacity for hydrogen makes the energy carrier a relatively expensive option for peaking power generation.
"As costs for making green hydrogen come down worldwide, South Africa's resources of wind and sun can be developed beyond the power sector.
"They can combine with the country's industrial expertise and existing investments to create a new-generation synfuels industry, backed by hydrogen electrolysis.
"A 'hydrogen high road' offers both an economic boost – and thus an increase in jobs – and a deeper and faster route to decarbonisation," the study concludes.
In a comparison of the high-road scenario outlined in the study with one termed 'inertia', which assumes a continuation and some further reinforcement of existing policies, South Africa's gross domestic product could be 3.6% higher than it would be under the inertia scenario.
The country's greenhouse-gas emissions would be 68% lower, with 18% of that reduction attributable to green hydrogen, meanwhile.
The study sees the 370 000 additional jobs created in operational positions for renewables and hydrogen production (76 000), long-term sustainable construction jobs (22 000) and in manufacturing and logistics supporting input and services in the enhanced green economy (over 290 000).
The study estimates that 25% of these additional jobs can be realised by 2030, by which time South Africa could have a yearly green hydrogen production profile of 0.75-million tons.
"The conclusion of our work is that these goals represent a serious and feasible ambition to deliver the combined economic and decarbonisation benefits of low-carbon hydrogen for South Africa," Barrett stated.
GERMAN PARTNERSHIP
Also speaking during the webinar, German Ambassador to South Africa, Lesotho and Eswatini Martin Schäfer described the green hydrogen opportunity as a potential triple 'win' for South Africa, the environment and Germany, whose recently adopted national hydrogen strategy relies heavily on imports of green hydrogen from countries with better renewables resources and more land to build the wind, solar and electrolyser plants required to produce the energy carrier.
"Let me be clear, we want to establish a strategic green-hydrogen partnership with South Africa and with Africa at large that benefits both. First of all African countries, by boosting sustainable economic development on the continent and Germany, because we need the energy that will be exported to us from Africa to fuel our own economic development," Schäfer outlined.
"This is what you really call a win-win situation, with the third winner being our planet in its battle against climate change," he enthused.
Germany has set aside €9-billion to support its hydrogen strategy, including €2-billion for international projects.
In South Africa, the German government, through KfW, had initiated a programme of up to €200-million in size to support the establishment of green hydrogen projects, with a formal request for information to be released before the end of June.
KfW director for Southern Africa and regional funds Dr Thomas Duve confirmed that the funding would be in the form of concessional loan finance and would be disbursed by December 2023.
The Council for Scientific and Industrial Research and Meridian Economics had been appointed by KfW to help it identify and evaluate high-potential prospects.
The German development bank would prioritise projects related to the production, transportation, export and/or storage of green hydrogen and green-hydrogen products, projects in existing materials and chemicals value chains that support a transition from fossil-based processes to ones based on green hydrogen, and innovative financial instruments or subsidy mechanisms for stimulating the South African hydrogen market.
"I think this is an excellent opportunity for cooperation between Germany and South Africa," Duve said, indicating that, in Africa, only Morocco had hydrogen prospects and projects that could be considered more advanced than those in South Africa, with discussions with Namibia still at a preliminary stage.