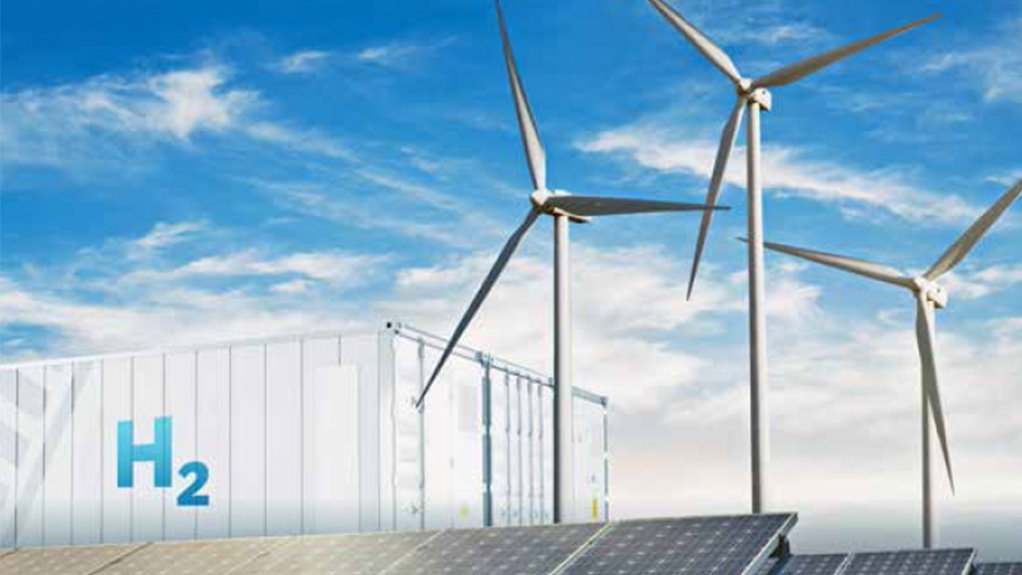 A request for information (RFI), aimed at gathering information on potential green hydrogen project opportunities in South Africa, has been released.
The RFI has been issued by the Council for Scientific and Industrial Research (CSIR) and Meridian Economics on behalf of German development bank KfW, which has set aside up to €200-million in concessional financing on behalf of the German government for the initiative.
Information is being sought on project opportunities covering the production, consumption, transport or storage of green hydrogen and derivatives, with preference given to projects that are at least in the prefeasibility stage owing to tight funding disbursement timelines.
KfW has set an indicative target date of end-2023 for the disbursement of funds, which will be channelled through a South African public institution.
New projects, as well as projects in existing value chains that support the transition of fossil-based processes to green hydrogen will be considered, along with offerings from financial institutions on financial instruments or funded subsidy mechanisms that could stimulate the competitiveness of green hydrogen.
The primary focus of the initiative is to support green hydrogen, which is defined as hydrogen produced by the electrolysis of water using electricity generated exclusively from renewable energy.
Consideration will be given, however, to projects that support the transition from 'grey hydrogen', produced using fossil fuels, where a three- to five-year transition pathway towards green hydrogen can be demonstrated.
The programme is in line with the German government's National Hydrogen Strategy, adopted in 2020.
The strategy envisages the energy carrier playing a key role in the decarbonisation of those sectors that are difficult to abate using renewable electricity directly, such as marine transport, long-distance land freight, cement, chemicals, fertiliser and steel.
It also acknowledges that Germany will need to import much of its green-hydrogen demand from countries such as South Africa, Morocco, Namibia and elsewhere, that have more favourable wind, solar and land resources to produce the low-cost renewable energy required to produce green hydrogen competitively.
Although South Africa is a water-stressed country, the initial analysis indicates that this constraint can be overcome by coupling electrolysers with desalination facilities to treat seawater or acid-mine drainage.
Responses to the RFI must be submitted by July 30, whereafter projects will be evaluated and bilateral engagements with potential projects undertaken.
KfW aims to select promising projects in August and conclude final contracting by year-end so that implementation can begin by the middle of 2022. 

Subscribe to our free newsletter.
Energy and ICT sector news and announcements from EE Business Intelligence Energy, electricity and ICT for Africa News and announcements from EE Business Intelligence Issue 58, November 2021 You are receiving this email because of your past interactions with EE Publishers and EE Business Intelligence. To unsubscribe, please click on the SafeUnsubscribe link at the […]

By Sasha Planting 11 October 2021 original article here A new report predicts South Africa's hydrogen economy could add between $3.9bn and $8.8bn to the country's GDP by 2050. Not to mention thousands of jobs. Solar panels, wind turbines and lithium-ion batteries are setting the world on course towards a clean energy future. But to […]

EThekwini's hydrogen economy strategy includes developing capacity for both blue and green hydrogen. By RenewAfrica.Biz  25 Aug 2021 original article here Durban's hydrogen economy is set to get a major boost following an announcement by the British High Commission on the allocation of more than £225 355 (R4.6 million) in grant funding to three highly strategic projects on […]

2ND AUGUST 2021 BY: MARTIN CREAMER CREAMER MEDIA EDITOR original article here JOHANNESBURG (miningweekly.com) – Green hydrogen, which can be generated and then used with the help of Southern Africa's platinum group metals (PGMs), is a topic that has gained a lot of importance in recent months in the context of limiting global warming and meeting the world's decarbonisation […]