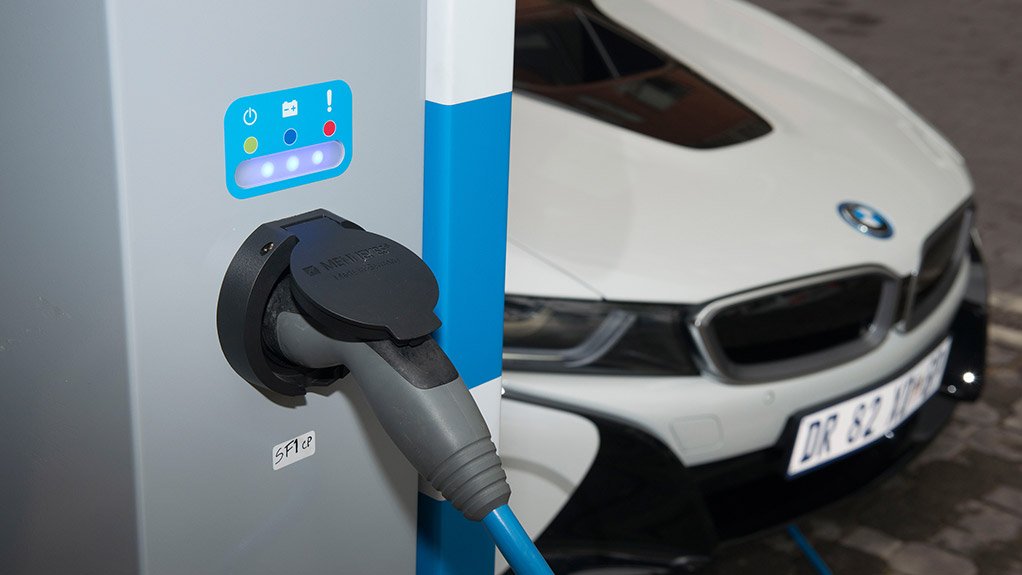 The Department of Trade, Industry and Competition (DTIC) has issued a Draft Green Paper on the Advancement of New-Energy Vehicles in South Africa.
New-energy vehicles (NEVs) includes hybrids, battery electric vehicles (EVs) and fuel-cell vehicles.
Minister of Trade, Industry and Competition Ebrahim Patel said in his budget vote on Tuesday that his department was seeking public comment on the document, with the aim to finalise the strategy within 90 days.
In a media briefing that followed his budget speech, he noted that it was important that South Africa didn't "simply become a market for EVs produced elsewhere in the world, relegating our car-making to internal combustion engines (ICEs).
"Then, as the world shifts more and more to EVs, we are left with stranded assets in the form of large assembly plant capacity that has not been adjusted to EVs.
"It is quite important to us to get the production side ready."
Patel added that it was also necessary to "step up efforts to build full EVs in South Africa", in order to maintain the local industry's capacity to export to key markets, such as the European Union (EU) and UK, both of which have set new targets and deadlines to reduce the number of fossil-fuel reliant vehicles on their roads.
The global forecast is for NEV passenger car sales to exceed those of ICE passenger cars by 2038.
Of significance to the South African automotive industry, however, is the forecast that 40% of new vehicles sales in Europe would be EVs by 2030, and for this number to increase to 80% by 2040.
Three out of four South African manufactured vehicles are currently exported to the EU.
The Draft Green Paper, therefore, looks at ways of expanding the support provided to vehicle and components makers under government's Automotive Production and Development Programme (APDP), in order to kickstart the production of EVs.
Such new production processes promise to be a costly exercise, however, especially as a number of the components needed to produce EVs are not currently made in South Africa.
The current APDP provides support to local vehicle manufacturers based largely on the volume of locally made components used, as well as the number of vehicles produced.
"EV production and value chain development policy should consider that there will initially be a cost premium to [vehicle manufacturers] in South Africa based on the higher component import costs needed for EV assembly," states the Draft Green Paper.
"Temporary support in addition to what is already known under the South African Automotive Masterplan 2035 and associated APDP, can help to bridge the gap and support the necessary local competency development. The policies are technology agnostic at present.
"To that extent a key step would be the identification of a set of unique EV component technologies that are currently not considered feasible for localisation."
The paper also notes that the local industry may need to consider battery production as a "medium to long-term ambition".
"Government, industry and labour are in agreement on the need for South Africa to seriously consider EV battery manufacturing, which can comprise nearly half the cost of the vehicle, as part of the 60% rules of origin requirement under the current free trade arrangements with the EU and the UK."
The automotive industry is South Africa's biggest manufacturing sector.
Consumer Incentives
Patel said the Draft Green Paper also focused on addressing sluggish local EV demand.
Globally, consumers have been offered a number of incentives to buy EVs. However, this has not been the case in the South Africa and the domestic EV market has remained insignificant.
EV sales in South Africa comprised only 92 units, or 0.02% of the total 380 206 vehicles sold in the domestic market in 2020, down from 154 units in 2019.
Hybrid vehicle sales accounted for 232 units in 2020.
"There is currently a considerable premium when a consumer buys an EV," said Patel.
"This is principally driven by the cost of the battery. However, as battery technology improve, we anticipate the premium to reduce and be eliminated over time.
"Until then we have a challenge."
One way to resolve this, is to restructure the ad valorem tax payable on vehicles sold in South Africa, in order to even out the selling price between EVs and ICE vehicles, noted Patel.
"Our challenge is to sequence this so carefully that we don't have any disruption to domestic production capability; that we keep on producing the vehicles that consumers want."
Patel added that South Africa also needed additional charging infrastructure to go with increased EV sales, noting that the country "must expand the existing 200 charging points, using the agreed SABS standard".
The Draft Green Paper is open to comments from all stakeholders, including members of the public.
The DTIC expects to gazette the draft policy for public comment by the end of May, and to submit policy proposals to Cabinet by October.
The Green Paper is available at http://www.thedtic.gov.za/wp-content/uploads/EV_Green_Paper.pdf
Fuel cells, Johan van Zyl, BAIC
Patel also used his budget speech to outline the progress being made in a number of other projects in the domestic automotive landscape.
He said that South Africa's first fuel-cell factory had started production in the Dube Trade Port, in KwaZulu-Natal.
A nickel sulphite facility has also been established in the North West, using by-products of the platinum group metals (PGMs) mining process to create components for lithium-ion batteries, used in EVs.
Patel noted that the "big opportunity", however, would be in technologies based on green-hydrogen energy.
"South Africa is well-positioned to become a key player, with our reserves of PGMs used as a catalyst in green hydrogen fuel-cells, as well as vanadium used in battery storage technologies."
He noted the proposed project between Sasol and Toyota to explore the use of fuel-cell technology along the N3 corridor between Johannesburg and Durban.
He added that he would appoint a panel led by former Toyota Europe boss and current Toyota South Africa Motors executive chairperson, Dr Johan van Zyl, to finalise a report on the practical actions to be taken to realise the opportunities for South Africa in a green-hydrogen economy.
Patel also noted that the first four black auto component manufacturers will this month receive funding from the auto industry's transformation fund.
Next month will see Solar Africa Energy open its solar carport manufacturing facility in Pretoria.
In July, the local auto component sector will grow its capacity when production of steering systems begins from the expanded ZF Lemfoerder factory, in the Eastern Cape.
Patel added that the first building in the Tshwane Special Economic Zone (SEZ), developed especially to enable growing component production in support of an expanded Ford plant, will be completed in April next year.
The BAIC light vehicle assembly plant will in the same month also, finally, start commercial production in the Coega SEZ.
The Chinese auto maker's plant was originally set to go live in 2018. 

Subscribe to our free newsletter.
After the Bell: The way people misunderstand renewable power is shocking  (Image: iStock) By Tim Cohen  Follow 13 Dec 2022  2 I can't get away from the feeling that the constant, relentless defence of coal has a larger agenda somewhere behind it. Listen to this article 0:00 / 6:23 1X BeyondWords How do we comprehend the resistance among […]

Opinion: Koeberg life extension could flip switch on half a trillion rands of economic damage Graphic showing coal capacity factors and loadshedding 24TH NOVEMBER 2022 ARTICLE ENQUIRY      SAVE THIS ARTICLE      EMAIL THIS ARTICLE FONT SIZE: –+ In this opinion article, energy analyst and commentator Clyde Mallinson warns that, against the backdrop of persistent and erratic loadshedding, the economic cost of shutting the Koeberg nuclear plant for […]

A New Barefoot GuideFrom the Agroecology Series My Food is African Healthy soil, safe foods and diverse diets Télécharger – Français Download – E   A New Barefoot Guide From the Agroecology Series My Food is African Healthy soil, safe foods and diverse diets Télécharger – Français Download – English A publication of The Alliance […]

 > This edition | The voluntary carbon markets, explained in three figures        Read the last Dispatch | The dark matter of the emissions universe             Next Dispatch | What to do when portfolios hit the "value-carbon frontier"  Share Tweet Forward Carbon is a new global currency. If we're serious about stopping climate […]