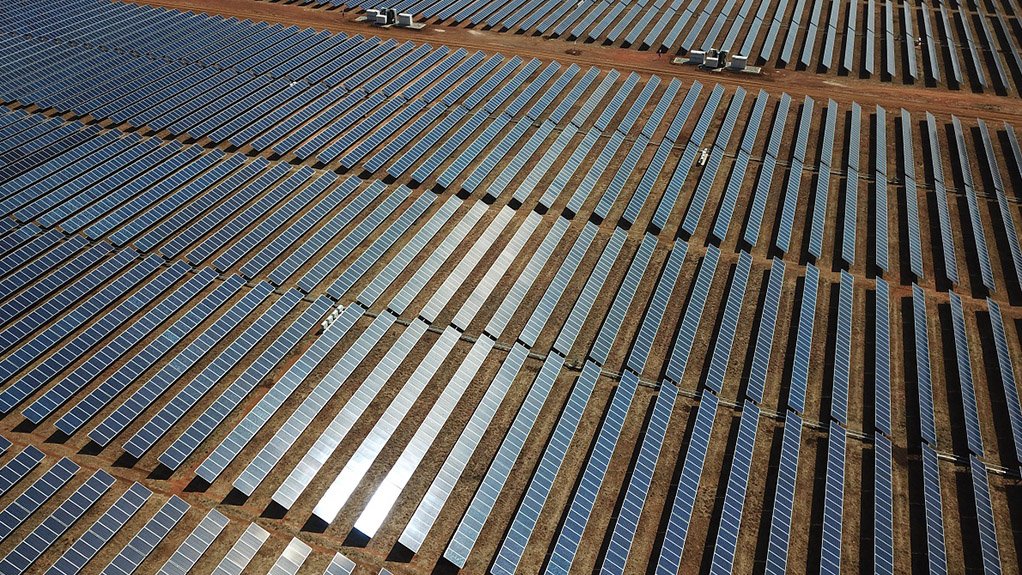 The 78 MW Bokamoso Solar Park
Another large-scale solar photovoltaic (PV) project procured under the fourth bid window of South Africa's Renewable Energy Independent Power Producer Procurement Programme (REIPPPP) has entered into commercial operation.
The fourth bid window eventually closed in 2018, following a four-year delay, precipitated by Eskom's then refusal to enter into new power purchase agreements with projects procured by government under the REIPPPP.
Engineering, procurement and construction (EPC) contractor juwi Renewable Energies reported on Wednesday that the 78 MW Bokamoso Solar Park, situated near Leeudoringstad in the North West province, had reached full grid code compliance and commenced commercial operations.
The project's equity investors are Old Mutual's African Infrastructure Investment Managers (AIIM), through its IDEAS Fund, the Phakwe Group, the Reatile Group and African Rainbow Energy and Power.
Bokamoso is the second of three AIIM projects awarded under the fourth bid window to enter into commercial operation, with the 86 MW Droogfontein 2 Solar Park, near Kimberley in the Northern Cape, reaching full operation in February.
The 86 MW Waterloo Solar Park, situated near Vryburg in the North West province, is said to be nearing completion.
The juwi Group is constructing all three projects, which have a combined capacity of 250 MW.
The Bokamoso Solar Park, which has been constructed on a 150-ha site, is able to supply 177 660 MWh/y into the Eskom grid from 236 580 solar panels.
"We are delighted to have achieved this major project milestone," juwi MD Greg Austin said in a statement, adding that the company was also looking forward to participating in future procurement rounds in South Africa.
The Department of Mineral Resources and Energy, through the Independent Power Producer (IPP) Office, is currently overseeing the Risk Mitigation Independent Power Producer Procurement Programme for 2 000 MW.
The IPP Office has also indicated that it plans to initiate the fifth bid window of the REIPPPP before the end of January, following the gazetting of a Ministerial determination opening the way for the procurement of 6 800 MW for onshore wind and solar PV generators over the coming three years.
COO Stephan Hansen says the three AIIM projects have entrenched the juwi Group's position as a leading EPC contractor in South Africa, where it is also beginning to offer own-developed PV projects into the market.
"Once all three projects are concluded in the coming months, juwi will have a 20% South African market share in both the EPC and operations and maintenance business areas.
"With the systemic shortage of energy supply combined with the political targets towards renewable energies and their proven cost advantages we see a positive and sustainable environment for us to be successful in the market," Hansen concluded.