Please only submit events related to CC, Energy, Just Transition or Environment; Submitted events will only be posted once reviewed by us. For emergency edits / submissions, please
email us
.
Is it still an investment if it's destroying the planet? Join the workshop!
August 1 @ 8:00 am

-

12:30 pm
Is it still an investment if it's destroying the planet? Join the workshop!
The South African government has threatened to force pension funds to invest in polluting coal. But we have another idea for how our pensions should be used.
Many South Africans don't want their savings propping up the most destructive industry on earth. Our money is a direct link between us and the fossil fuel industry — that's why it's important for our pension fund managers to break ties with the fossil fuel industry and join hundreds of institutions that have divested worldwide.
Our friends at Fossil Free South Africa are organising a Climate-Proofing South African Retirement Funds workshop.
Most pension funds still invest in the companies fueling climate breakdown. Your pension fund manager or financial advisor need to understand the risks – both financial and environmental – posed by climate breakdown. Please forward this template email to them now and invite them to attend the workshop: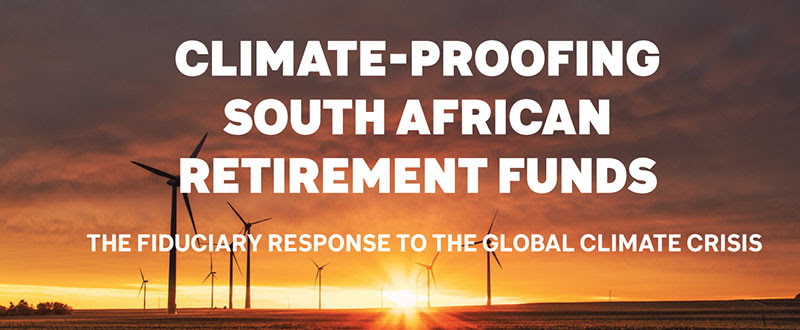 Fossil Free South Africa is organising a workshop to talk about Climate-proofing South African retirement funds. I would like to invite you to attend.
Here are the details:
When: 1 August 2019
Time: 8am for 8.30am – 12.30pm
Venue: River Club, Liesbeek Parkway, Observatory
CPD points from Batseta: The Council of Retirement Funds for South Africa
Cost: R350
To build a just, sustainable, and healthy future for all South Africans, we need ethical savings and investments in our economy that support the long-term social development and a healthy environment.
Our financial flows to oil and gas companies are an important lever. If we can stop the funding, coal projects and drilling sites cannot go ahead, and fossil fuels will have to stay where they belong: in the ground. 
Thank you