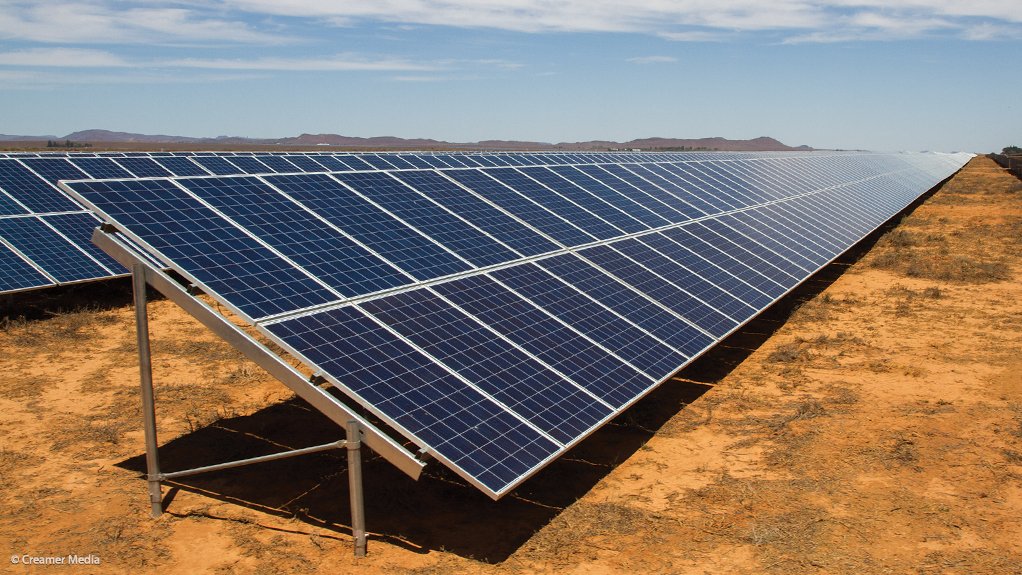 Photo by Creamer Media
The organisation whose initial analysis indicated that reforming Schedule 2 of the Electricity Regulation Act to exempt embedded generation projects of at least 50 MW in size from the country's cumbersome licencing process could unlock 5 000 MW of new capacity within five years has made its formal submission on a draft amendment to the legislation.
In the submission, Meridian Economics warns that South Africa's electricity crisis is worsening and that the immediate capacity shortfall of between 4 000 MW and 8 000 MW is hindering South Africa's economic recovery.
It also warns that there could be delays in the implementation of government's utility scale procurement programme, with the powership-heavy Risk Mitigation Independent Power Producer Procurement Programme facing a legal challenge and with the renewables procurement programme running about a year behind schedule.
Meridian argues that facilitating a substantial uptake of embedded or distributed generation projects expeditiously "presents the largest quick-win to address part of this shortfall and alleviate the large economic cost of power shortages".
It notes that there is widespread support for lifting the current Schedule 2 licence-exemption threshold to at least 50 MW, despite the draft amendment published by Mineral Resources and Energy Minister Gwede Mantashe on April 23 proposing that the exemption be increased from 1 MW to only 10 MW.
Meridian noted that this support has been expressed in various public statements by Eskom, Minerals Council South Africa, numerous industry groups as well as the Congress of South Africa Trade Unions.
"Lifting the licence-exemption threshold will send a clear and important market signal to project developers and investors that government is inviting investment and implementing the necessary reforms to facilitate the process."
It again argued that the reform would support the introduction of some 5 000 MW of capacity over the coming four to five years, which would be sufficient to add an additional 11 000 GWh a year and go a long way to addressing the country's electricity shortage.
"Raising the threshold to only 10 MW will limit the embedded generation investment case by restricting the licence exemption to smaller, more expensive projects with a limited number of customers, lower economic viability and this may deter several potential investors and financiers," Meridian warns.
Besides lifting the threshold, Meridian argues that the amendment to Schedule 2 should also include the following:
allowing licence-exempt facilities to sell to multiple customers and aggregators;
defining ''own use" projects as a specific project category that is exempted from licensing; and
accommodating 'interconnected' projects in the licence exemption.
The submission stresses that none of its recommendations have implications for technical and environmental permitting of embedded generation projects, which are not dealt with under the National Energy Regulator of South Africa's exemption schedule, but by separate authorities.
"Generation projects will still need to demonstrate technical and environmental compliance, enforced by Eskom or municipal distributors, and the relevant environmental department."
In addition, Meridian stresses that these projects will not impact Eskom negatively in the near-term, as they will inject additional power on to the grid that will allow Eskom to reduce its use of expensive diesel-fired peaking turbines and create more opportunities for the utility to optimally utilise its pumped storage assets.
"Furthermore, ramping up the number of customer wheeling agreements will see a new revenue stream for both Eskom and municipalities, which generate income through wheeling charges."
The submission also states that the reform could be significant for South Africa's economic recovery, as the installation of 5 000 MW of embedded generation could result in investment of between R75- and R85-billion and create between 12 000 and 16 000 direct jobs each year.
"By incorporating these key changes, significant additional generation capacity could be unlocked in the South African embedded generation sector.
"This will go a long way to addressing the country's short-term power supply gap, but also signals an important shift towards a fit-for-purpose, 21st century electricity sector," the submission concludes.