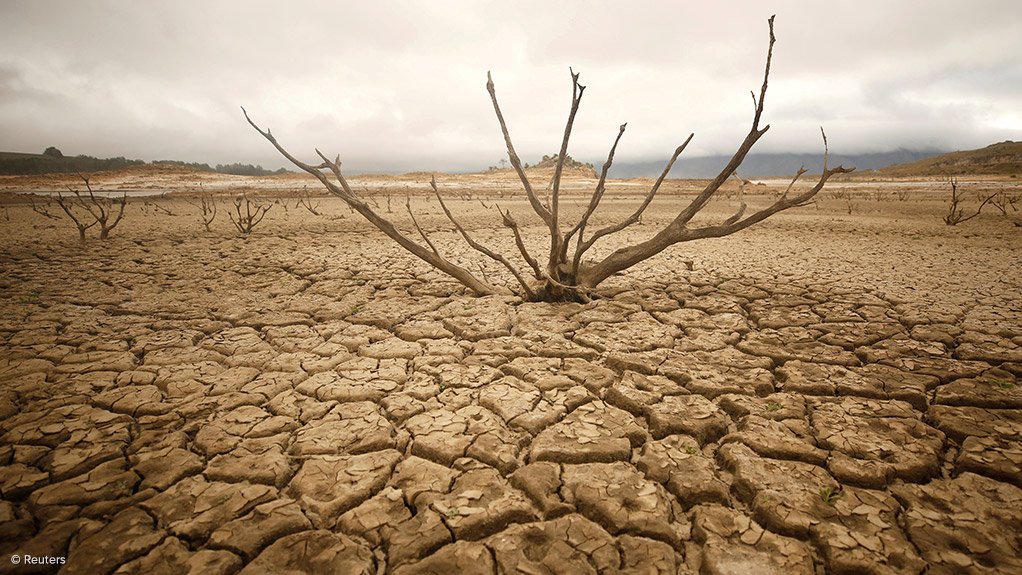 A leading South African climate scientist believes a 'Gauteng day-zero drought' represents the biggest near-term climate change risk faced by the country, which is poised to become hotter and drier as average global temperatures rise.
Francois Engelbrecht, who is a distinguished professor of Climatology at the University of the Witwatersrand's Global Change Institute and a lead author of chapter four of the Intergovernmental Panel on Climate Change's (IPCC's) recently released Working Group One Sixth Assessment Report, says the Southern African region has been identified as a climate-change hot spot, owing to a projected rate of temperature change that will be twice the global average.
In addition, while precipitation will rise on average globally, the sub-tropical regions of Africa will become "drastically" drier, leaving fewer adaptation options relative to those regions, mostly in the northern hemisphere, that are projected to become warmer and wetter.
"If you live in the land masses of the northern hemisphere that are naturally cool and wet, and now they become warmer and wetter, that does bring some substantial risks, as we have seen in Germany recently, for more intense and more devastating flooding.
"But it still leaves options for adaptation," Engelbrecht explained during a virtual colloquium hosted by the Presidential Climate Commission on Thursday.
"When a region like ours, that is naturally warm and dry, becomes drastically warmer and drier, the options for adaptation are greatly limited," he warned.
Some regional "tipping points" for Southern Africa could include:
a Gauteng day-zero drought;
more frequent and intense multiyear drought and heat waves that had the potential to collapse the region's maize and cattle industries;
more frequent and intense heat waves that could impact on human health and even lead to death; and
the prospect of more intense tropical cyclones that could affect Maputo, Richards Bay, or move down the Limpopo river valley.
Engelbrecht noted that the Gauteng drought of 2015/16 had caused the level of the Vaal dam to fall below 25%, taking it "extremely close" to the 20% threshold at which supply to the province would be "heavily compromised".
"So the drought risk already exists and, as the level of global warming increases, that risk increases and I think it is something that can happen in the next 20 years.
"Even if it is a low likelihood event, we must be fully prepared, because it will have an immense impact. But I don't think it is a low likelihood event, there's actually a fair chance that it may occur."
The immediate prospect of a day-zero-type drought, similar to that which nearly occurred in Cape Town in 2018, had receded, however, with most systems, excluding those in the Eastern Cape, at healthy levels currently.
The drought risk potential for the Southern African region was further reinforced by Dr Izidine Pinto, of the University of Cape Town's Climate System Analysis Group and lead author of chapter 11 of the IPCC report.
He stated that, with temperatures having already risen to 1.1 °C above pre-industrial levels, there was now "high confidence" among IPCC scientists that many regions would experience concurrent heatwaves and drought.
Such concurrent extremes at multiple locations, Pinto added, would become more frequent at 2 °C and above, when compared with a scenario where the average rise in global temperatures did not breach the 1.5 °C level.
Prospects for achieving such an outcome were precarious and the Council for Scientific and Industrial Research's Dr Pedro Monteiro, another South African lead author of the IPCC's  Sixth Assessment Report, argued that it would require "strong, rapid and sustained carbon dioxide (CO2) reductions".
"CO2 is our main lever toward 1.5 °C and if we stop emitting CO2 we will stop additional warming."
To "bend the curve" away from the current trajectory, where temperatures would increase by more than 4.5 °C by the end of the century, would require more than a transition to net-zero emissions.
Such an outcome would also require "negative emissions" and for the world to stay within a remaining carbon budget of 400 Gt.
Given that some 40 Gt of CO2 were being emitted globally every year, Monteiro highlighted that the opportunity to secure a 1.5 °C future could be out of reach within ten years.
"The 1.5 °C future is still in our hands, but that future window is closing rapidly," he warned.