New and updated data, tools, and visualizations are key to make sense of and understand climate change, GHG Emissions, and countries' commitments to reducing their emissions.
Climate Watch is a go-to resource for media, policymakers, and researchers to visualize and download data on global and national emissions trends, track climate commitments, and more. This free online platform is implemented by the World Resources Institute in collaboration with multiple countries, including the UN Climate Change Secretariat, the World Bank and the NDC partnership.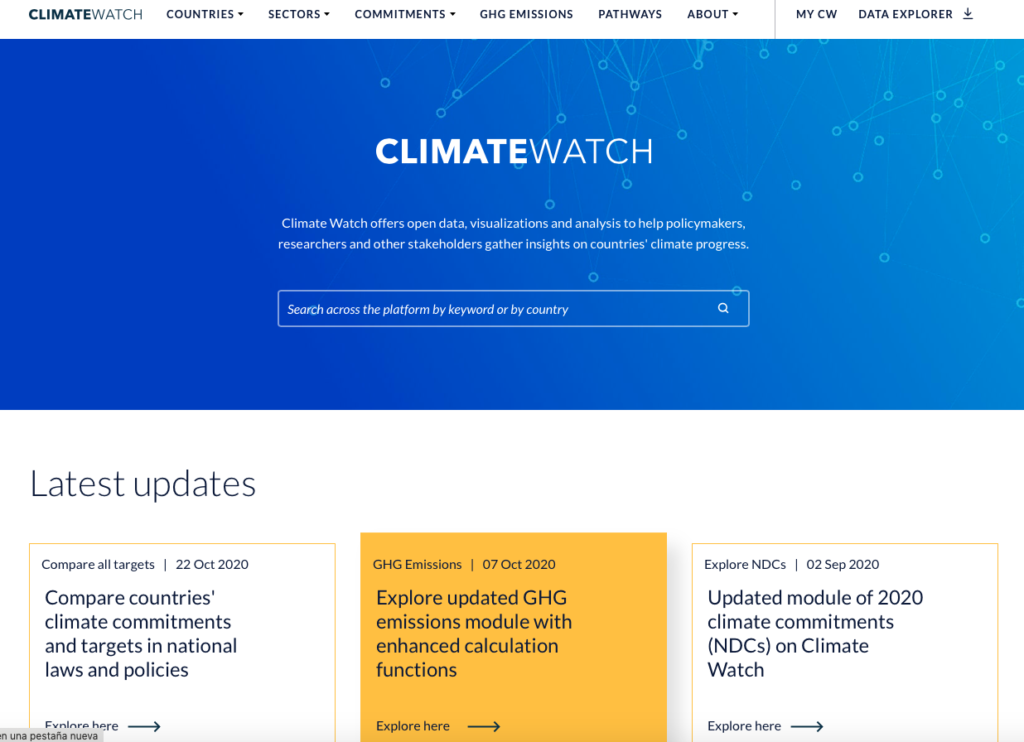 Learn more about Climate Watch here and explore some of its key resources below. 
Webinar: "Data Tools for Assessing New National Climate Commitments"
Join WRI's top climate experts in this special webinar for national governments that will answer questions like: How do the national climate plans submitted thus far stack up? Which ones will likely be submitted next? And what resources and tools are available to access the contents of these national plans and to assess if they are rigorous?
When: December 10, 7am ET (1pm CET) / December 11, 9pm ET (10am CST)
Duration: 1 hr 15 mins each
Registration: here
Subscribe to our free newsletter.
Good COP, Bad COP — two sides to SA's just transition investment plan  From left: US Special Envoy for Climate John Kerry, UK Prime Minister Rishi Sunak, President of the European Commission Ursula von der Leyen, South African President Cyril Ramaphosa and German Chancellor Olaf Scholz during the JET Investment Plan meeting on the sidelines of […]

Developing country carbon emissions clemency not applicable to South Africa – Nicholls Photo by Creamer Media's Donna SlaterSouth Africa is a significant carbon-intensive emitter, sharing an emissions contributing position among the highest, globally 2ND NOVEMBER 2022 BY: DONNA SLATERCREAMER MEDIA CONTRIBUTING EDITOR AND PHOTOGRAPHER ARTICLE ENQUIRY      SAVE THIS ARTICLE      EMAIL THIS ARTICLE FONT SIZE: –+ South Africa cannot be allowed to breach its climate […]

View this email in your browser REGISTER NOW WEBINAR: Navigating Energy Pathways for Climate Ambition: The implications of 1.5°C scenarios for Paris-aligned energy transitions Monday, October 24, 2022, 11:00 CEST Energy scenarios have a key role to play in guiding the energy system transformation needed to meet the 1.5°C temperature limit under the Paris Agreement. […]