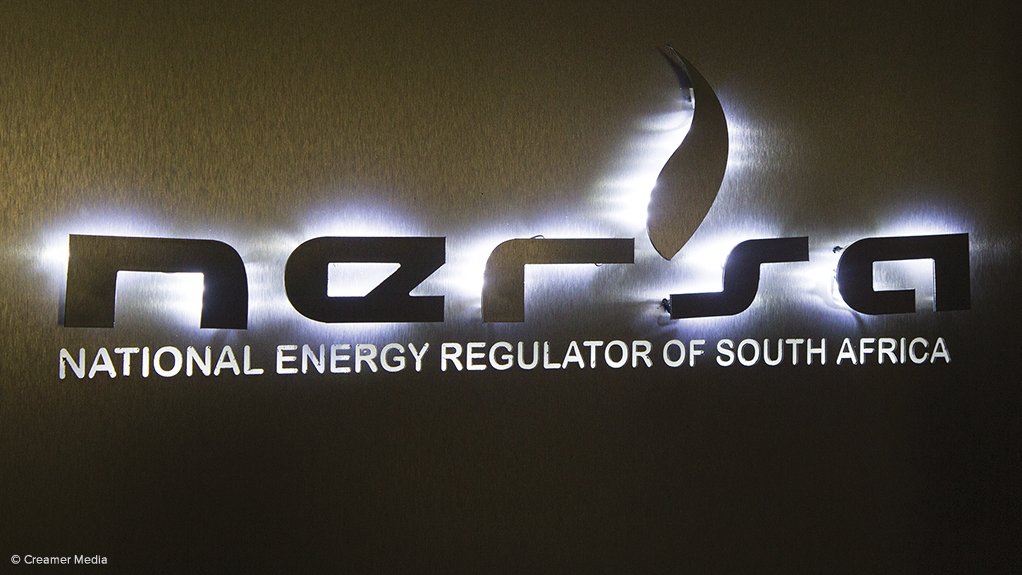 Photo by Creamer Media
The National Energy Regulator of South Africa (Nersa) announced on Monday that it would oppose an Eskom High Court application seeking to review and set aside the Energy Regulator's latest regulatory clearing account (RCA) determination.
In an unusual step, the regulator also urged other stakeholders to join it in opposing the utility's legal challenge.
The RCA decision, which relates to the 2018/19 financial year, was made in 2020 and was one of several factors that contributed to this year's 15.63% hike.
Following an adjudication of Eskom's 2018/19 RCA application, Eskom was given permission to recoup R13.3-billion, broken into two yearly amounts, as well as a supplementary revenue balance of R1.3-billion.
The State-owned utility had applied to recover R27-billion.
Eskom indicated late last year that it would study the regulator's reasons for decision before making a call on whether to challenge the RCA decision and, on April 12, Nersa received Eskom's judicial review application.
Eskom argues in its affidavit that both the 2018/19 RCA decision and the supplementary tariff decision are "unlawful, irrational and unreasonable", as they "fail to take account of the judgments of this court in the review applications in respect of the 2019 tariff decision and the 2015/17 RCA decisions".
Eskom argued that, despite recent favourable court rulings, including an order that led to an agreement with Nersa that the utility be allowed to liquidate an additional amount of R23-billion for the 2021/22 financial year, it still faced a severe liquidity crisis.
It adds that inadequate tariff increases have materially compounded this crisis and that the shortfall in revenue for Eskom is likely to turn its liquidity issues into a national fiscal crisis.
Eskom's existing debt stood at R488-billion at the end of financial year 2020 and the utility had an additional borrowing programme of R96-billion planned for the financial years 2022 to 2026, which was nevertheless "insufficient to close the more than R216-billion funding gap to 2026".
Government is, thus, having to commit to substantial additional support to ensure sustainability of the enterprise.
Besides this placing a heavy burden on the fiscus, in the form of guarantees and direct financial injections, the interlinked nature of State debt also poses a risk: "[A] failure to meet any demand made on South Africa by any creditor of Eskom with the benefit of the South African State's Eskom guarantees would also potentially trigger acceleration of the full liability of South Africa's own debt which can be accelerated if any such demand is not met when made, potentially exposing over $68-billion (over R980-billion, based on an assumption of USD/ZAR of 14.50) of international debt of South Africa."
While Eskom does not dispute historical mismanagement within its senior ranks, nor State Capture, it nevertheless asserts that the "fundamental liquidity problems faced by Eskom are primarily a product, not of these issues, but rather of inadequate tariff increases".
"By way of simple illustration, the tariff increases in the 2019/20 and 2020/21 financial years arising from the 2019/2022 revenue decision deprived Eskom of R46-billion to which it ought to have been entitled.
"Even the wildest estimates of what State Capture related activities might have cost Eskom in recent times, do not reach amounts anywhere near R46-billion," Eskom avers.
"And R46-billion is, of course, the cost to Eskom merely of the latest erroneous tariff decision by Nersa pertaining to two years only. It does not take account of the succession of inadequate tariff increase decisions taken by Nersa over the previous decade," the utility adds.
It also dismisses arguments that the liquidity crisis is the result of Medupi and Kusile cost overruns.
"Eskom has historically not sought compensation by way of increased tariffs to cover cost overruns owing to mismanagement on its capital build. Eskom accepts that any cost overruns caused by mismanagement are for its own account and will result in a lower return on equity than the reasonable return to which it would otherwise have been entitled."
Instead, Eskom argued that its current predicament has arisen not as a result of unreasonable expenditure, but because Nersa consistently failed to grant it tariff increases sufficient to cover its reasonable expenditure.
Regarding its application to have the 2018/19 RCA reviewed and set aside, the utility argues that Nersa has adopted an approach that has already been ruled to be impermissible by Justice Jody Kollapen in respect of an earlier 2015/17 RCA matter.
It argues that the 2018/19 RCA determination is irrational and unlawful in respect the treatment of the primary energy revenue variance, as well as its treatment of open-cycle gas turbine costs and the service quality incentive.
On the redetermination of the 2018/19 tariff decision, which Kollapen also ordered, and which gave rise to a supplementary application, Eskom indicates it wants the decision by Nersa to disallow R1.555-billion in the RCA application in respect of coal costs, to be reviewed.
At its April 28 meeting, the Energy Regulator resolved to oppose the application.
Nersa said it considered the factual matrix, and applicable regulatory and legal principles in arriving at this decision.
"Nersa further considered the impact of Eskom's continuous court review applications on the government's economic recovery plans, as well as hardships on customers.
"In this regard, interested stakeholders are welcomed to join Nersa in opposing the review application if they consider that the court decision may negatively affect them."
Nersa, which has been criticised previously for not responding timeously to court applications, said it would oppose the judicial review application within the required timeframe and process. 

Subscribe to our free newsletter.
16TH FEBRUARY 2022 BY: TERENCE CREAMER original article here The National Energy Regulator of South Africa (Nersa) has initiated public consultations on Eskom's latest regulatory clearing account (RCA) application, through which the utility is seeking to recover an additional R10.7-billion for the 2020/21 financial year – a period which coincided with South Africa's most intensive Covid […]

27TH SEPTEMBER 2021 BY: TERENCE CREAMER  original article here The Nersa Consultation paper on a new price determination methodology (1.54 MB)Download State-owned electricity utility Eskom says it is "not feasible" for the National Energy Regulator of South Africa (Nersa) to make a revenue determination, for implementation on April 1 2022, on the basis of a new methodology that has yet to be […]

1ST JUNE 2021 BY: TERENCE CREAMER CREAMER MEDIA EDITOR original article here Photo by Creamer Media The National Energy Regulator of South Africa (Nersa) has published a new regulatory clearing account (RCA) application from Eskom, through which the State-owned utility is seeking to recoup R8.4-billion in cost and revenue variances for the 2019/20 financial year. The application […]

11TH MAY 2021 BY: TERENCE CREAMER CREAMER MEDIA EDITOR Original Engineering News Article here The Hillside aluminium smelter The National Energy Regulator of South Africa (Nersa) has invited stakeholder comment on a proposed 10-year negotiated pricing agreement (NPA) between Eskom and the Hillside aluminium smelter, in KwaZulu-Natal, which is owned by South32 and is Eskom's largest […]