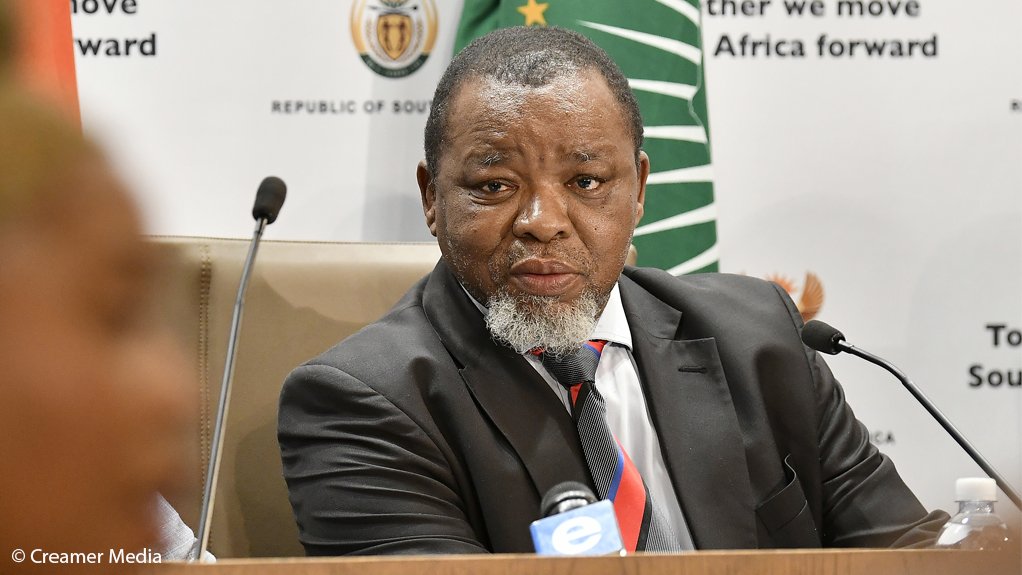 Photo by Creamer Media's Donna Slater
Mineral Resources and Energy Minister Gwede Mantashe
Mineral Resources and Energy Minister Gwede Mantashe has again swatted aside calls for a 50 MW licence-exemption threshold for distributed-generation plants, describing such calls, which have been made by organised business and even endorsed by Eskom, as "academic" in light of a departmental survey showing that mines, factories and farms were satisfied with an increase in the cap to only 10 MW.
Delivering his Budget Vote amid a return to load-shedding, Mantashe said some 10 000 respondents had been surveyed and had indicated that they would not be ready to pursue projects larger than 10 MW in size.
Engineering News requested a copy of the survey and the results, but was told by an official that they could not be shared as the Minister was referring to comments emanating from the gazetted amendment to Schedule 2 of the Electricity Regulation Act (ERA) published for public comment.
Mantashe said in his speech that Schedule 2 had, thus, been "amended and gazetted" to increase the threshold for registering such plants from 1 MW to 10 MW, ignoring the fact that the notice remained open for comment.
Published on April 23, the gazette notice provided interested persons and organisations an opportunity to submit written comments to the Department of Mineral Resources and Energy within 30 days, implying a closing date of May 23.
Veering from his prepared remarks, Mantashe said there had been "a lot of noise" about the 50-MW threshold, but that "our research and survey, where we had about 10 000 people responding, [shows] overwhelming support for the 10 MW".
"The market is not ready for this 50 MW, but is very much prepared to adjust to the 10 MW," he said.
The Minister, nevertheless, expressed "delight" at the news that the National Energy Regulator of South Africa had granted Gold Fields a licence for a 40 MW solar photovoltaic investment and indicated that his department stood ready to support other "self-generation" projects by the mining industry.
He invited all other mining companies that were keen to "self-generate" to approach his department, which had mandated a deputy director-general to specifically help facilitate such projects.
No mention was made in the speech about the several other clauses in the draft amendment to the Schedule 2 of the ERA that were said to be hampering investment in distributed plants, including the current limitation on the sale and wheeling of electricity to non-related buyers.
FOSSIL DEFENDER
Mantashe also used the address to once again emphasise the need for an energy mix and to insist that South Africa, given its relative stage of economic development, should not be restricted from implementing new fossil-fuel projects.
Speaking on the same day that the International Energy Agency released a report showing that no new fossil-fuel projects beyond those already approved could be pursued if the global net-zero emissions target by 2050 needed to restrict the global rise in temperature to below 1.5°C above preindustrial levels is to be met, Mantashe outlined a growth vision for gas and also insisted that new coal should be allowed to be included in the domestic electricity mix.
Reflecting on recent offshore finds by Total, as well as ongoing shale exploration in the Karoo, Mantashe said there were "positive signals that we will succeed in developing these resources in line with our ocean's economy agenda".
He also defended plans to release a request for proposal (RFP), scheduled for December, for 1 500 MW of new coal-fired generation capacity, arguing that the procurement would provide a framework for the development of "clean-coal technology".
Likewise, a tender for 3 000 MW of gas-to-power would also be released by year-end, with an environmental impact assessment study having been undertaken for three 1 000-MW apiece plants to be developed in special economic zones.
"Even though South Africa and the rest of the world are increasingly under pressure to mitigate against climate change, South Africa's energy capacity is largely dependent on fossil fuels.
"In an alternative universe, one would immediately eliminate fossil-fuel-generated energy such as coal and petroleum. However, this is not our reality, our reality is that we have vast reserves of coal and petroleum resources which we continue to exploit."
However, he noted that the country's Integrated Resource Plan was dominated by renewable energy, with an RFP currently in the market for 2 600 MW of wind and solar photovoltaic capacity and subsequent bidding rounds for 2 600 MW and 1 600 MW of renewables respectably to be issued in August this year and January 2021.
A procurement process of 513 MW of storage capacity would also be launched in August.